Featured Item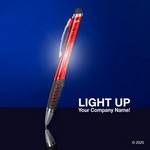 Luminate Delta Stylus Pen
Features LaserSharp™ Engraving, comfort grip and a unique illuminating imprint. Includes a touch screen stylus tip. Black or blue ink optional. Default ink is black.
$2.90 - $3.30
Texas Specialties Promotional Products, Weddings and Events
Welcome to Texas Specialties, let us be the first to help, "Everyone Know Your Name." by customizing whatever item you may want, Let us help you decide what items will fit your industry or team as we have over 25 years of experience in the promotional Product Industry. We are dedicated to providing you with the best products available at resonable prices and great service. We have an in house art department experienced in taking your ideas and making them a reality. We specialize in caps, shirts, signs and banners, and foam novelties, such as the No. 1 Hand. If you are looking for something new or already have your design, we can take it to the end product and insure that your promotion is a success. Please feel free to browse our website and if you have any questions contact us anytime. Thank you for visiting our site.
Personalize Your Day Weddings & Event Promos
From wedding party gifts, guest welcome baskets to personalized glassware for receptions, we can make your event reflect you personally. We specialize in personal designs and themes with the ability to customize everything down to the smallest details including signage.
Lone Star Signs


From idea conception to the final product, Lone Star Signs can design, produce and install your signs. Also full color banners with quick turn around times.




Spirit Industries, Inc


Originator of the Foam No. 1 Hand. Since 1978, No. 1 Hands have become a staple of the promotional products industry. Over 300 foam items available as well as custom design department to help with any branding project you may have.